Case study: products supply for solar installation
Mar 6, 2015. | By: Manuel López
A customer requested us a quotation for a solar system in East Africa. They were requiring solar panels, batteries, inverters and charge controllers for the project. They would be working with a local partner that can take care of the installation as instructed.
The requirements for the project were the following:
PV array size: 10,34KW
Battery size: 6910,15AH 80% of battery size is designed to charge from utility power supply. Only 20% is expected to charge from PV panel.
Inverter size: 10,34KW Input - 48V DC , Output - 380 VAC The inverter should be able to supply the load by choosing from utility, generator and PV/battery. It shall prioritize utility then generator, PV (if available) and battery at last if all others can't supply.
Charge controller: to be determined by supplier
Our proposal was the following:
44 pcs of our RSP250P Rekoser PV module to reach 11KW. (see RSP250P datasheet)
140 pcs of our RKG12-200 Rekoser gel batteries to reach 7000AH. We have chosen a Gel-type battery due to the weather conditions and also because this series is cheaper than OPzS and OPzV battery series. (see RKG12-200 datasheet)
1 pc of our RSI-12K-3PH Rekoser inverter/charge controller (see RSI-12K-3PH datasheet). It is a three-phase off-grid inverter that adapts integrated design of solar controller, inverter and isolated transformer. It supports mains/generator input, take advantages of old diesel generators, saving initial investment and operation maintenance cost. It will be able to supply the load by choosing from utility, generator, PV and battery as shown in the image below.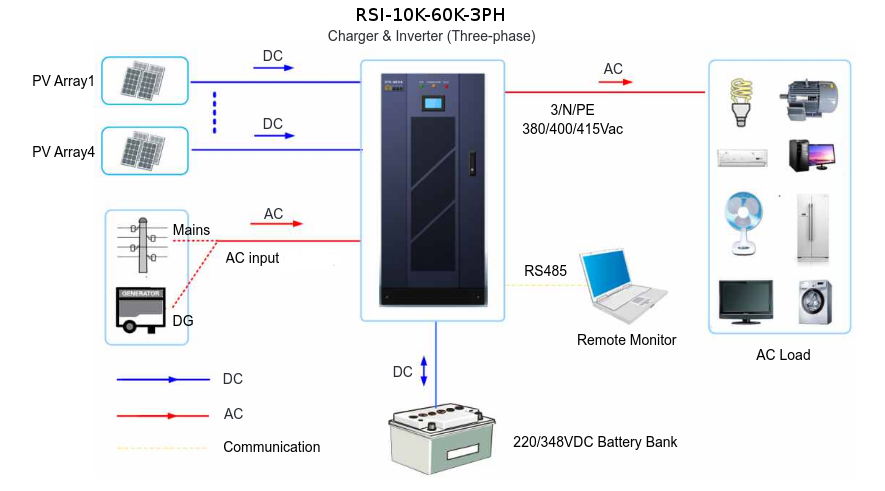 ---